Spare parts sales
TECFIL is the absolute leader in the Brazilian Spare Parts Sales market. Due to the quality of its products, commercial service and differentiated delivery, TECFIL has been growing every year, winning more repairers and consumers in the market.
In turn, Dealers perform an excellent marketing work ensuring TECFIL's presence in the most varied spare parts and services retailers in the country.
To meet our Dealers' team click here.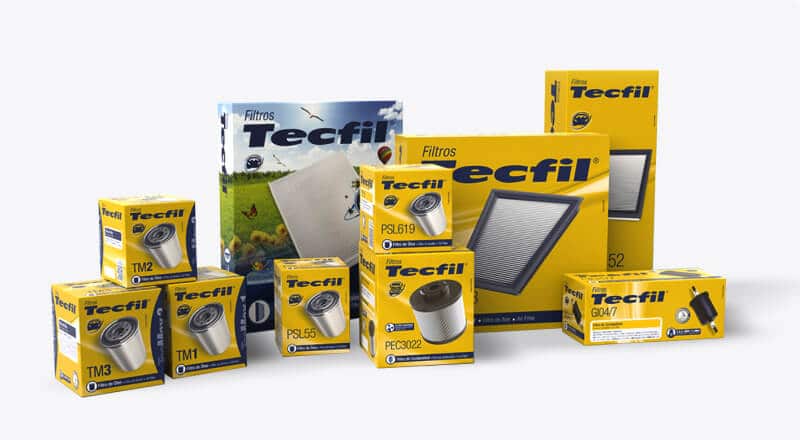 Private / Own Label Sales
The Private Label Market (Private / Own Label) is increasingly conquering its space in TECFIL's business, becoming a specialist in filter manufacturing and recognized in the market for this performance. As a result, many companies have entered into business with TECFIL for the their products production.
Our factory and quality management models have attracted several companies that outsource their production to us. In addition to the warranty, TECFIL offers technical and commercial support to private label companies.
OEM & Automakers Sales
As is the case in the Private Label market where many companies are attracted by TECFIL's quality and structure, it is no different in the Automakers segment.
Important automakers choose to equip their vehicles with filters manufactured at TECFIL plants. This ensures quality for the vehicle engine leaving the automaker for the market.
TECFIL is certified with the ISO / TS 16949, a specific automotive industry standard. In addition to this certification, which guarantees the quality of management and procedures, TECFIL meets all requirements demanded by automakers such as excellence in product manufacturing, laboratory testing and analysis, field efficiency and effectiveness testing, prototypes, scheduled delivery and technical support.
It is for these and other differentials that TECFIL has been growing in the participation of the Original market.
Tecfil has conquered foreign markets over the years, having an increasingly significant participation. Tecfil has conquered foreign markets over the years, having an increasingly significant participation. It currently exports directly to 26 countries and indirectly to more than 40 countries, being received as a "Premium Brand" in all of them.
Its effective participation in international fairs and events consolidates business with countries such as: Argentina, Chile, Bolivia, Uruguay, Paraguay, Equator, Peru, Colombia, Venezuela, Panama, Costa Rica, Honduras, El Salvador, Dominican Republic, Guatemala, United States, Portugal, Germany, Russia, Angola, Egypt, Nigeria, among others.